We work to advance the science of NDT
'ACADEMIA' was the term which described the sacred place in ancient Greece where Plato is said to have had his Centre of Learning, an olive grove dedicated to the goddess of wisdom, Athena.

These days we understand an Academia to represent an accumulation of knowledge in a certain field of science. A forum for the exchange of ideas, this brings together the most eminent scientists and experts to promote excellence in science and practice, facilitating solutions to the problems facing mankind.

The idea of the Academia NDT International emerged a few years ago, reflecting a need in the NDT community to have a body that is evidence of the science in the NDT field at the highest level. A Steering Committee was formed and met for the first time on 25 May 2007 in Opatija, Croatia.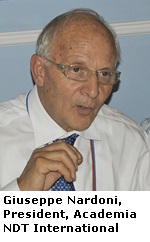 The overall objective of the Academia is to foster research, development and education in the NDT field by engaging NDT professionals in a combined effort, thus attaining the goal of always seeking progress.

Giuseppe Nardoni, President of the Academia NDT International, has referred to the organisation as "the greatest gift we can make to the new generation of NDT."

"After more than 60 years of NDT," he said, "we have deepened our knowledge, we have made even more discoveries, we have built and refined equipment, we have pushed back the boundaries in the field of education and we have raised the standards of the norms and guidelines for the qualification and the certification of NDT personnel.

"All of these have served to improve the testing of materials and structures, which in turn has made a great and indispensable contribution to the safety and wellbeing of people."

Non-Destructive Testing

In 1895 Wilhelm Conrad Röntgen discovered electromagnetic radiation in a wavelength range today known as X-rays or Röntgen rays, an achievement that earned him the first Nobel Prize in Physics in 1901. The discovery of X-rays, initially implemented for medical diagnostics, made it possible to see the internal content of subjects without damaging them, i.e. Non-Destructive Testing of the human body. Soon after, X-rays started to be used in industry.

Today, Non-Destructive Testing (NDT) is the branch of science and engineering concerned with all methods of detecting and evaluating flaws in materials. Flaws can affect the serviceability of the material or structure, so NDT is important in guaranteeing safe operation as well as in quality control and assessing plant life. The flaws may be cracks or inclusions in welds and castings, or variations in structural properties which can lead to loss of strength or failure in service.

NDT is used for in-service inspection and for condition monitoring of operating plant. It is also used for measurement of components and spacings and for the measurement of physical properties such as hardness and internal stress.

NDT has been defined as comprising those inspection methods used to examine an object, material or system without impairing its future usefulness.

The subject of NDT is a broad and expanding area; it ranges from simple techniques such as visual examination of surfaces, through the well-established methods of radiography, ultrasonic testing, magnetic particle crack detection, to new and very specialised methods such as the measurement of Barkhausen noise and positron annihilation to define material properties.

NDT methods can be adapted to automated production processes as well as to the inspection of localised problem areas.

These days non-destructive testing is a discipline regulated by mandatory standards, norms, guidelines, etc. recognized internationally and nationally. It provides technogenic, ecological and public safety and security diagnostics, making our world safer and creating benefits to the public.