Organisation
ACADEMIA NDT International is envisaged as a highly motivated body to foster Research, Development and Education in the NDT field by engaging NDT professionals in combined effort, thus attaining the goals of always seeking progress in the NDT field and establishing a network of eminent individuals contributing to the safety and wellbeing of all people and at the same time assuring themselves of an enriched professional life.

For ACADEMIA NDT International to be established, a Steering Committee was formed whose 1st meeting was held on May 25th 2007 in Opatija, Croatia. This committee succeeded in establishing a strategic target.
ACADEMIA NDT International was founded in Moscow on March 10th 2008, declaring itself as:

Non-governmental
Non profit-making
Impartial
A Council has been elected as the ACADEMIA's managing body, consisting of a President, two Vice Presidents, three Advisory members, an Executive secretary and up to two co-opted members.
Organisation Chart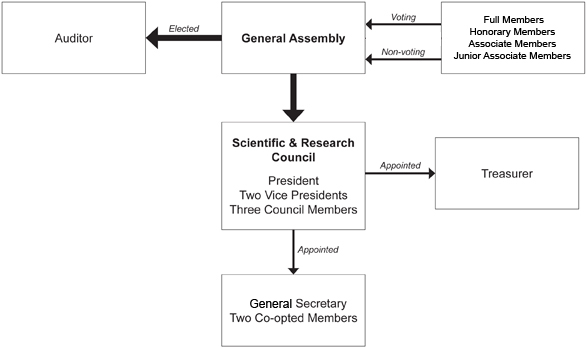 Council
| | | |
| --- | --- | --- |
| Name | Position | Country |
| Prof Peter Trampus | President | Hungary |
| Dr Serge Dos Santos | Vice President | France |
| Dr Shant Kenderian | Vice President | USA |
| Dr Adriana Savin | General Secretary | Romania |
| Prof Zdenek Prevorovsky | Treasurer | Czech Republic |
| Dr S K Babu | Council Member | Singapore |
| Dr Uwe Ewert | Council Member | Germany |
| David Gilbert | Council Member | UK |
| Prof Roman Maev | Co-opted Member | Canada |
| Dr Yoshikazu Ohara | Co-opted Member | Japan |